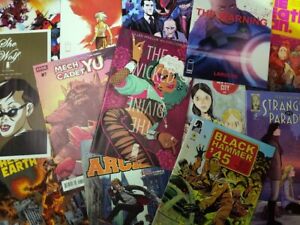 40 x Indy Comic Grab Bag Bundle - Random Assortment of Forty Indy Comics
A great way to sample and enjoy the wide range of independent comics titles out there.
A random selection of Forty Mixed Independent Comics.
These comics have been randomly picked from our independent comics stock boxes. There will be no duplicates in any single pack.  
Since this is a random grab bag, the condition of the comics will range from used to brand new, but will mostly be higher grade.  You should not assume this pack will be suitable for children, as the comics picked are random and may contain adult themes.
These comics wont be bagged and boarded.  
There will be no Marvel or DC in these bundles as they are drawn from our Independent stocks.  Please do not contact us asking for specific comics, these are random bundles that are already packed and ready to ship.
---
We Also Recommend