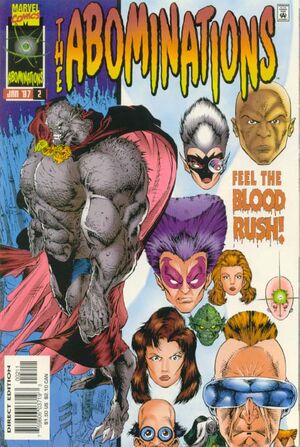 Abominations #2 - Marvel 1996
Abominations #2 - Marvel 1996
Estimated Condition: VF/NM
   
Having fled from the Dystopia of the future, Betty-6, Char, Cybersilk, Librito, Po, Sleek, Molly, Polly, and Mok the Dog of War find themselves almost a century in the past in the middle of a clash between the NYPD and the homeless of the East Village. Startled by the sudden appearance of these time travelers, the officers begin to open fire. Mok, Po and Sleek then use their superior abilities and technology to disarm the police officers and turn their weapons over to the homeless people, turning the tables on the situation. However, during the exchange of fire, Char is shot and collapses into the arms of Betty-6. The captain of the police force then orders everyone to stand down before things escalate any further.

USED Comics
Unless our comics are specifically listed as NEW or LIKE NEW they should be considered used. Used comics will vary in condition. Stock Image used.

SHIPPING
We send comics bagged and boarded in a card mailer. We cannot guarantee that the postman wont jump up and down on it, but we do our best to be sure it reaches you in good condition.

COMBINED POSTAGE: We DO combine postage on multiple items.

---
We Also Recommend