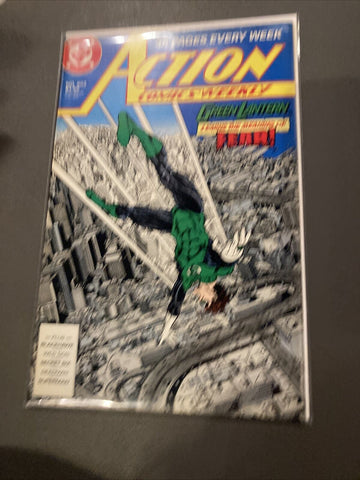 Action Comics #602 - DC Comics - 1988
Action Comics #602 - DC Comics - 1988
   
Hal returns home to find John Stewart crying over the slaughtered remains of his wife, Katma Tui. Hal is beside himself with grief. John, anguished, blames Hal for Katma's death. After Katma's funeral, Star Sapphire baits Hal into yet another fight. Hal tries to understand why she killed Katma, but Sapphire responds with flighty quips. She uses her powers to force an F-14 jet to come screaming down towards an industrial center in Coast City.

Hal is forced to divert his attention away from Sapphire to stop the jet. The pilot manages to eject, and Hal redirects the jet away of the populated area to crash it against some warehouses and contains the fire. Moments later, the pilot approaches Green Lantern and hands him a book left by Star Sapphire: a Coast City White Pages, with the name "Ferris, Carol" marked in red.
   
USED Comics
Unless our comics are specifically listed as NEW or LIKE NEW they should be considered used. Used comics will vary in condition. This item features a REAL PHOTO of the comic so you can look and see the condition for yourself.

---
We Also Recommend