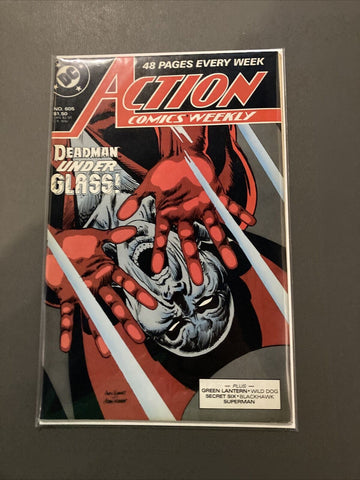 Action Comics #605 - DC Comics - 1988
Action Comics #605 - DC Comics - 1988
   
After faking her own death, Star Sapphire comes out of her grave. She finds an unidentified alien in the graveyard, who takes control of her sapphire gemstone and zaps her with a bolt of energy, leaving her unconscious. Hal Jordan wakes up in Golgotha, a barren planetoid that exists outside of the time continuum. He's chained to the south magnetic pole, acting as a human lightning rod. Hal's ring comes back to him, but he's too weak to use it. After some failed attempts and many near-lethal lightning bolts hitting him, Hal creates an umbrella to deflect the lightning and he channels his willpower from the ring to his limbs, breaking the chains.
   
USED Comics
Unless our comics are specifically listed as NEW or LIKE NEW they should be considered used. Used comics will vary in condition. This item features a REAL PHOTO of the comic so you can look and see the condition for yourself.

---
We Also Recommend