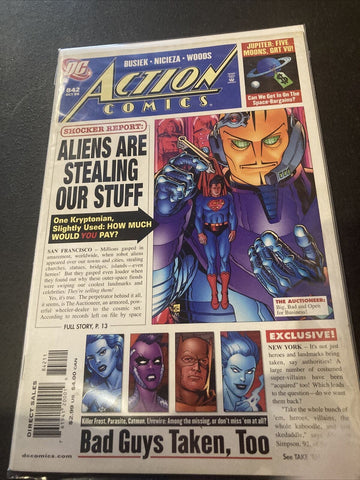 Action Comics #842 - DC Comics - 2006
Action Comics #842 - DC Comics - 2006
   
Superman is in San Francisco, where he helps the Teen Titans prevent the Auctioneer from stealing Alcatraz. The Auctioneer is fascinated with Superman, and shifts his attention to capturing Earth's costumed super-heroes and super-villains. The Man of Steel and the Titans are teleported away, their bodies converted into digital data. The media covers the event while also casting doubt on whether or not the recently returned Superman is the real deal.
   
USED Comics
Unless our comics are specifically listed as NEW or LIKE NEW they should be considered used. Used comics will vary in condition. This item features a REAL PHOTO of the comic so you can look and see the condition for yourself.

---
We Also Recommend