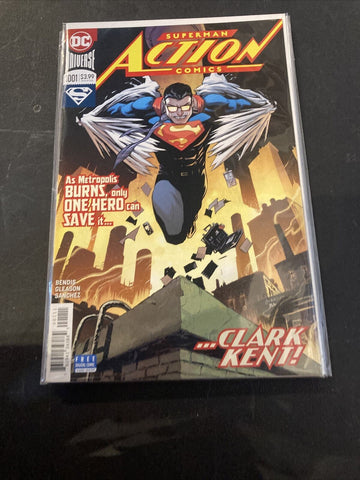 Action Comics #1001 - DC Comics - 2018
Action Comics #1001 - DC Comics - 2018
   
Many days have passed since Superman watched his wife and son leave with Jor-El on a journey across the stars. He keeps himself busy stopping a group of thieves from escaping Lexcorp Tower with their stolen loot. The scared criminals unload all their ammo on Superman, which fails to do anything to him. Superman politely asks the criminals to drop their weapons and surrender themselves to the police while he goes on to tear down the helicopter the thieves were trying to use to escape.
   
USED Comics
Unless our comics are specifically listed as NEW or LIKE NEW they should be considered used. Used comics will vary in condition. This item features a REAL PHOTO of the comic so you can look and see the condition for yourself.

---
We Also Recommend