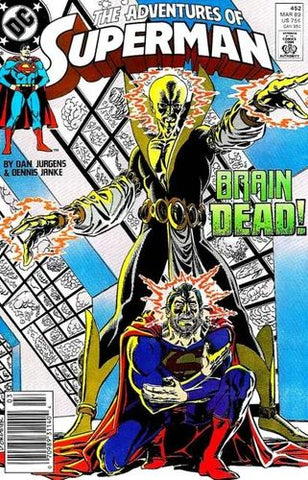 Adventures Of Superman #452 - DC Comics - 1989
Adventures Of Superman #452 - DC Comics - 1989
   
Superman happens upon a ship while in space, and enters it. He finds a long hallway with tanks with living brains in them. There, he is suddenly attacked by The Word-Bringer. Here, Superman fights Word-Bringer for the second time. This time, Word-Bringer has merged all minds in the Union, his collection of brains, into one body, creating the being called Eon.

Superman and Eon battle, while Superman tries to convince Eon that Word-Bringer's ways are wrong. Eon and Word-Bringer eventually come to an understanding with Superman, saying that they will only take brains that are willing to join the Union, instead of forcing them. Superman tells them that he'll allow this, but if they screw it up, he will be back. Superman promptly leaves Word-Bringer's ship and flies off into space.
   
USED Comics
Unless our comics are specifically listed as NEW or LIKE NEW they should be considered used. Used comics will vary in condition. The Estimated Condition shown is our best guess as to condition. The image used is a stock image.
  
Estimated Condition: FN/VF (Used)
  
SHIPPING
We send comics bagged and boarded in a card mailer. We cannot guarantee that the postman wont jump up and down on it, but we do our best to be sure it reaches you in good condition.
  
COMBINED POSTAGE: We DO combine postage on multiple items.
---
We Also Recommend