Batman Vol.1 #413
Batman takes down an internationally wanted criminal named Toshihiko Kikkawa. Kikkawa gives him information on rumored heist at the Gotham Metropolitan Museum.

Bruce Wayne later attends a new museum exhibit he funded with weapons and armor belonging to the ancient Japanese hero Masahiko Tahara. Masahiko and his family committed suicide after their defeat at the hands of the Tokugawa clan. His son Koji Tahara became a ninja folk hero for striking back at the Tokugawas.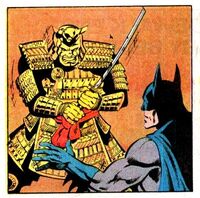 This exhibit was donated by Masahiko's descendant Yoshio Tahara, a wealthy martial artist who considers himself the spiritual heir to Koji Tahara. The exhibit is run by museum curator Lucius Pitt. A reporter named Kay Doran hits on Bruce Wayne at the exhibit, but he turns her down. Bruce also runs into his young ward Jason Todd at the exhibit, who is studying 19th century English clothing for school. Jason later does his homework in the Batcave with Alfred while Batman continues to patrol the museum.
Estimated Condition: FN/VF (Used) 
---
We Also Recommend