Batman Vol.1 #655 (Key: 1st App. Damian Wayne.)
*1st Appearance Damian Wayne


"Batman & Son, Part 1: Building a Better Batmobile"

Commissioner Gordon is thrown off a rooftop by the Joker and caught by the GCPD, laughing from Joker Venom all the way down. On the rooftop, Joker has caught someone he believes to be Batman and is beating him to death with a crowbar while disabled children tied to the Jokercopter watch.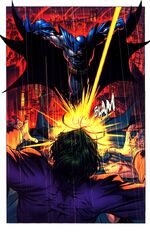 Joker believes he's caught Batman.  This man is revealed to be an impostor when he takes out a gun and shoots Joker in the face.

Estimated Condition: VF/NM
---
We Also Recommend