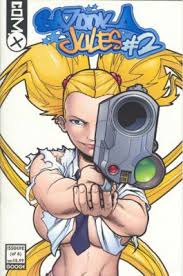 Bazooka Jules #2 - Com.X - 2001
Young Jules is accidentally saddled with a symbiote which allows her to become an adult version of herself, with huge guns and glands. Naturally, she's pursued by a government sponsored "super-hero" team who look like they crawled out of Clive Barker's wastepaper basket.
  
USED Comics
This is a used comic. Used comics will vary in condition. There may be spine marks, price stamps, off-white internal pages, slight discolouration in white areas (foxing), slight wear and tear, depending on the condition and particularly on books which are VG or lower condition. The Estimated Condition shown is our best guess as to a grading. The picture used is a stock image, not the actual item.
 
Estimated Condition: VF/NM (Used)
 
SHIPPING
We send comics bagged and boarded in a card mailer. We cannot guarantee that the postman wont jump up and down on it, but we do our best to be sure it reaches you in good condition.

---
We Also Recommend