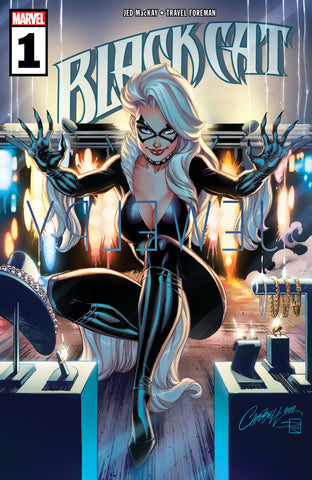 Black Cat #1 - Marvel Comics - 2019
The Black Cat is back and starring in her first ever ongoing series!
Felicia Hardy has a taste for the finer things in life and a certain set of skills that can get her into any mansion, vault or museum to…procure said finer things. But due to her actions in AMAZING SPIDER-MAN, Felicia's not only on the run from the police but also by the New York Thieves Guild and their boss ODESSA DRAKE!
High-octane heists, climactic chases and twist after twist that will keep you on the edge of your seat like a cat on a perch. IN THIS ISSUE: Find out a secret from Cat's past in a bonus story that sets a foundation for the future! All this and an all-new MARVEL MEOW short story by Nao Fuji!
   
NEW Comics
Condition-wise, this is a new comic. With new comics these are books that have not been read and have been bagged and boarded since we received them as new stock. We do not guarantee that they are a 9.8 although some may well be. All books get some shelf wear and if you want a pristine 9.8 then there are specialist services that guarantee those, but (like most comic retailers) we are not able to.
   
SHIPPING
We send comics bagged and boarded in a card mailer. We cannot guarantee that the postman wont jump up and down on it, but we do our best to be sure it reaches you in good condition.

---
We Also Recommend