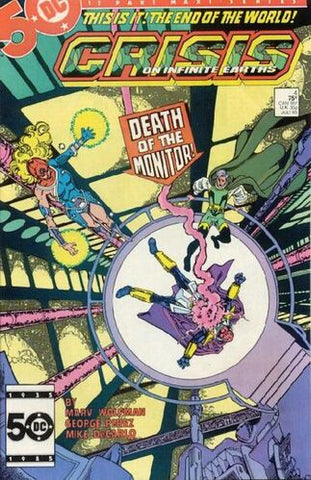 Crisis On Infinite Earths #4 - DC Comics - 1985
Key: 1st Appearance Doctor Light (Kimiyo Hoshi)
Key: 2nd Appearance John Constantine
The Monitor dies at the hands of Harbinger. Pariah cries. All but Earths One and Two are consumed by the anti-matter cloud.As Supergirl joins a despondent Batgirl on top of a city building on Earth-One, trying to encourage her before she is called to rescue a plane that falls apart approaching the anti-matter wave, Pariah arrives on Earth-6 where he confronts the royal superhero family of Lord Volt, Lady Quark, and Princess Fern as the anti-matter wave destroys their world as well. Lady Quark watches helplessly as both her husband and daughter are consumed in the wave while Pariah transports her safely out of the universe.
USED Comics
This is a used comic. Used comics will vary in condition. There may be spine marks, price stamps, off-white internal pages, slight discolouration in white areas (foxing), slight wear and tear, depending on the condition and particularly on books which are VG or lower condition. The Estimated Condition shown is our best guess as to a grading. The picture used is a stock image, not the actual item.
  
Estimated Condition: VG (Used)
  
SHIPPING
We send comics bagged and boarded in a card mailer. We cannot guarantee that the postman wont jump up and down on it, but we do our best to be sure it reaches you in good condition.
---
We Also Recommend