Doom Patrol Vol.2 #18
The Doom Patrol returns from their mission in the Arctic Circle during Invasion! to find a world celebrating the defeat of the Alien Alliance. However, with Celsius dead, none of them feel happy with their victory. They lament her unstable mental condition at the time, and that they were unable to save her from a pointless unnecessary death. Although the crowds are cheering for the usually feared and distrusted group, Robotman reminds the groups that this isn't the first time they've saved the world, and crowds are fickle.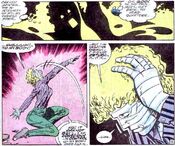 Garguax announces that their reluctant alliance against the invaders is now over, and he's going to resume trying to destroy them... and taking over the world.
This title is Suggested for Mature Readers.
Estimated Condition: FN/VF (Used)

---
We Also Recommend