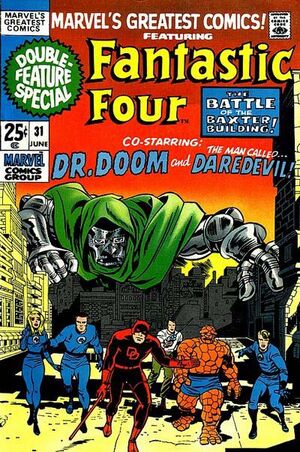 Marvel's Greatest Comics : Fantastic Four #31 - Marvel - 1971
Having survived the Q-Bomb set to explode by the Frightful Four but lost at sea, the Fantastic Four are pulled from the Pacific by a US Navy submarine crew. Taken to the infirmary, Reed talks in his sleep about their defeat at the hands of their evil counterparts.
  
When the Fantastic Four finally awaken from their ordeal they are shocked to find that the radiation from the Q-Bomb blast had stripped them of their powers. Upon their return to the United States, Reed conducts a bunch of tests that prove conclusively that they no longer have their powers. Fearing their enemies may strike them when they are at their most vulnerable, he begins designing technological replacements for their powers.
   
Johnny is given a flaming suit, Ben a robotic duplicate of his Thing form, an Electro-Vibro suit for Sue that gives her a protective force field, and mechanical limbs for Reed that can extend. However these devices have a massive learning curve leaving the team to wonder if they will ever be ready when their next foe attacks them.
   
USED Comics/Magazines
Used comics will vary in condition. The Estimated Condition shown is our best guess as to condition. The image used is a stock image.

Estimated Condition: VG (Used) (Creases on cover, wear on spine and edges, off-white pages.)

SHIPPING
We send comics bagged and boarded in a card mailer. We cannot guarantee that the postman wont jump up and down on it, but we do our best to be sure it reaches you in good condition.
---
We Also Recommend