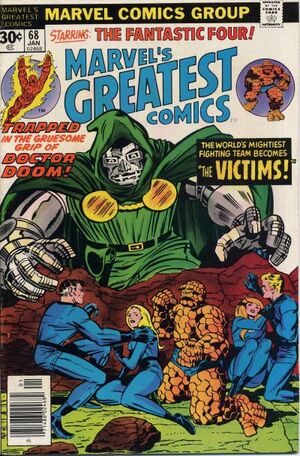 Marvel's Greatest Comics : Fantastic Four #68 - Marvel Comics - 1977
"Within This Tortured Land"
With the Fantastic Four brainwashed into thinking they no longer have their powers, they have to use their wits to battle the Doombots which have come to destroy the Latverian village. However, during the battle, Reed and the others realize the truth and overcome their brainwashing, using their powers to destroy the Doombots.
   
USED Comics
This is a used comic. Used comics will vary in condition. There may be spine marks, price stamps, off-white internal pages, slight discolouration in white areas (foxing), slight wear and tear, depending on the condition and particularly on books which are VG or lower condition. The Estimated Condition shown is our best guess as to a grading. The picture used is a stock image, not the actual item.
   
Estimated Condition: VG (Used)
  
SHIPPING
We send comics bagged and boarded in a card mailer. We cannot guarantee that the postman wont jump up and down on it, but we do our best to be sure it reaches you in good condition.
---
We Also Recommend