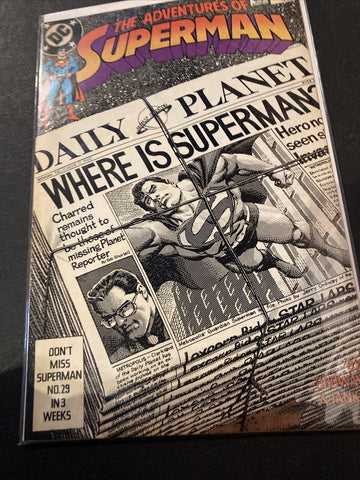 Adventures Of Superman #451 - DC Comics - 1989
Adventures Of Superman #451 - DC Comics - 1989
   
Superman flees from the crowded planet to the emptiness of space. He finds an asteroid field, with some corpses floating around, covered in some kind of organic slime. Suddenly, he encounters some strange space organisms that try to absorb him. He finally escapes using the teleporter.
  
Meanwhile on Earth, the people of Metropolis think Clark Kent is dead, so Lex Luthor begins a plan to get back at Intergang for his murder. He also sends Jose Delgado after Emil Hamilton in order to re-employ him. But the old scientist traps José inside a magnetic field, freeing José from the radio signals that were controlling his armour.
   
USED Comics
Unless our comics are specifically listed as NEW or LIKE NEW they should be considered used. Used comics will vary in condition. This item features a REAL PHOTO of the comic so you can look and see the condition for yourself.

SHIPPING
We send comics bagged and boarded in a card mailer. We cannot guarantee that the postman wont jump up and down on it, but we do our best to be sure it reaches you in good condition.

COMBINED POSTAGE:
We DO combine postage on multiple items.

---
We Also Recommend