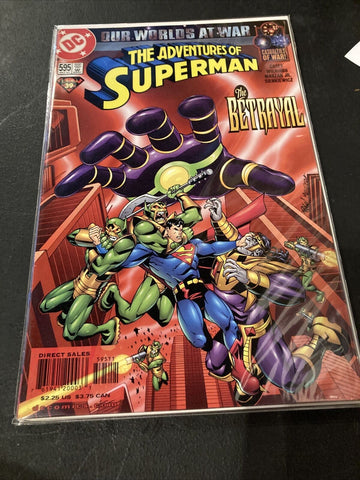 Adventures Of Superman #595 - DC Comics - 2001
Adventures Of Superman #595 - DC Comics - 2001
   
As Superman battles Darkseid, Lex Luthor is visited by his daughter Lena, who reveals her allegiance to Brainiac 13. Luthor is not pleased to learn that he has been strung along and betrayed by her and so he makes a new alliance of his own, with Zod and his people, promising to make Pokolistan a world power. Meanwhile, Darkseid and Superman realize that the true aggressors at the moment are Warworld. Grayven has been working with Brainiac 13 who plans to destroy both Apokolips and Earth; after Darkseid does away with his wayward son, he and Superman agree to fight their true enemy...to the death.
   
USED Comics
Unless our comics are specifically listed as NEW or LIKE NEW they should be considered used. Used comics will vary in condition. This item features a REAL PHOTO of the comic so you can look and see the condition for yourself.
  
SHIPPING
We send comics bagged and boarded in a card mailer. We cannot guarantee that the postman wont jump up and down on it, but we do our best to be sure it reaches you in good condition.
  
COMBINED POSTAGE:
We DO combine postage on multiple items.
---
We Also Recommend